The Bureau of Labor Statistics (BLS) released its monthly Employment Situation Report today, which shows continued evidence of a strong labor market. The U.S. unemployment rate is now the lowest it has been in nearly 50 years, payroll employment continued its historic streak of positive jobs gains, and average weekly wages continued to rise.
BLS's September survey of households offers evidence of a booming United States economy. The unemployment rate dropped 0.2 percentage points (p.p.) over the month to 3.7 percent, the lowest it has been since December 1969 (see figure below). This is only the tenth month since 1970 that the unemployment rate has been recorded below 4 percent, with five of these months occurring in 2018. We know this decrease in the unemployment rate is due to more people finding jobs, as the labor force participation rate remained unchanged in September.
In addition to the nearly 50-year low for the overall unemployment rate, unemployment also reached historic lows for multiple demographic groups. The unemployment rate for Hispanics fell to 4.5 percent (matching July 2018), the lowest rate ever recorded. For women, the unemployment rate fell to 3.6 percent (matching May 2018), which was the lowest rate in nearly 65 years. The unemployment rate for those with a high school degree and no college attendance hit 3.7 percent, the lowest since April 2001. Furthermore, September was the first month since December 2000 that the number of people who are unemployed fell below 6 million.
The BLS survey of employers, also released today, showed that nonfarm payroll employment rose by 134,000 jobs in September. While below expectations for the month of September, employment gains in August were upwardly revised by 69,000 jobs, now showing 270,000 jobs gained that month—a very healthy number. Including the upward revisions in both July and August, average job growth per month is 208,000 for 2018, exceeding the average monthly gains in 2016 (195,000) and 2017 (182,000). Since President Trump was elected in November 2016, the strong United States economy has created 4.2 million jobs.
Job growth has been strong across the board during the first 20 months of this Administration. Since the President took office, goods-producing industries (construction, manufacturing, and mining and logging) have added almost 900,000 jobs. Of the 14 sectors measured, only retail trade, leisure and hospitality, and other services experienced job losses in September, and the employment decline in leisure and hospitality employment (-17,000) can likely be partially attributed to the effects of Hurricane Florence.
Nominal average hourly earnings rose by 2.8 percent over the past 12 months, while nominal weekly earnings growth was even stronger at 3.4 percent over the past 12 months. This is the fifth consecutive month with nominal 12-month growth over 3 percent—the longest streak with 3 percent nominal weekly earnings growth since 2010. Real wages (which take inflation into account) are also growing. Based on the most recent Personal Consumption Expenditures (PCE) price index data from August, inflation in the past year was 2.2 percent (September data will be available later this month).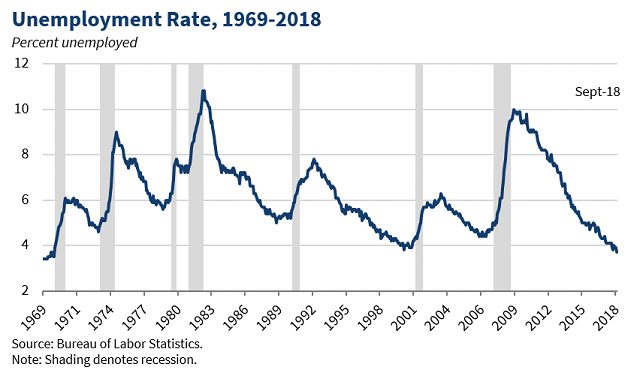 Overall, the surveys released by BLS today offer more evidence of a booming United States economy and a strong labor market.