President Donald J. Trump promised that he would bring the best and brightest from across the country—not just inside Washington—to build his Administration. The President, alongside the Vice President and the Cabinet, are committed to returning prosperity and security to all Americans.
Learn more about President Donald Trump, First Lady Melania Trump, Vice President Mike Pence, and Second Lady Karen Pence.
The Cabinet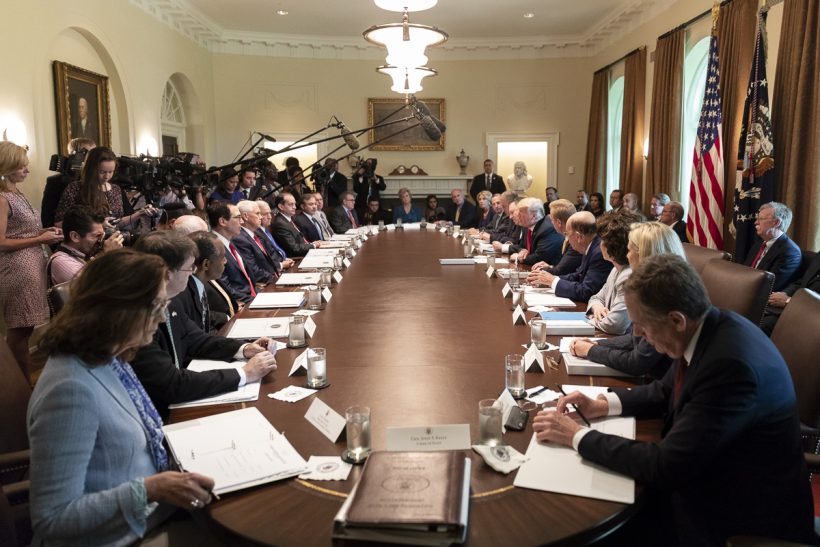 The tradition of the Cabinet dates back to the beginnings of the Presidency itself. Established in Article II, Section 2 of the Constitution, the Cabinet's role is to advise the President on any subject he may require relating to the duties of each member's respective office. Learn more about President Trump's cabinet.
Executive Offices
To provide the President with the support needed to govern effectively, the Executive Office of the President (EOP) was created in 1939 by President Franklin D. Roosevelt. The EOP has responsibility for tasks ranging from communicating the President's message to the American people to promoting our trade interests abroad. Overseen by the White House Chief of Staff, the EOP has traditionally been home to many of the President's closest advisors.
---
Disclosures
Since 1995, the White House has been required to deliver a report to Congress listing the title and salary of every White House Office employee. This report is being publicly disclosed online as it is transmitted to Congress. See more White House disclosures.