Under the Trump Administration, economic growth continues to exceed expectations. For 16 straight months, wages have grown by at least 3.0 percent, a pace not seen in more than 10 years. Additionally, for 19 straight months, job openings have exceeded job seekers, something never recorded before President Trump took office. Higher wages and plentiful jobs create strong incentives for Americans to join the labor force. In October, nearly three quarters of people entering employment came from outside of the labor force, which is a historic high. Even with impressive labor market gains, high child care expenses limit parents' options to work outside of the home.
CEA's new paper finds that making child care more affordable could help up to 10.4 million parents chose to enter the labor force or increase their work hours. As of December 2016, there were 3.8 million nondisabled, working-age parents with children under age 6 outside the labor force, and another 6.6 million such parents with children under age 13 working part time. The vast majority of these parents are women (86 percent). The paper reviews evidence on the responsiveness of work status and hours to wages and child care costs, and analyzes the degree to which these 10.4 million parents would enter the labor force or increase their work hours in response to a reduction in the market price of child care.
Labor force participation rates for mothers with young children are about the same as they were in 2000. However, since 2016, the labor force participation rate for mothers with children under age 6 has increased by 1.2 percentage points, and the rate for mothers with children age 6 to 12 has increased by 2.5 percentage points. Over the last year, women have filled two thirds of new jobs. The paper finds that the strong economy under President Trump and the significant expansion of child care assistance for low-income families he signed into law have boosted the recent increase. But, as the figure below shows, female labor force participation still lags the male rate among parents.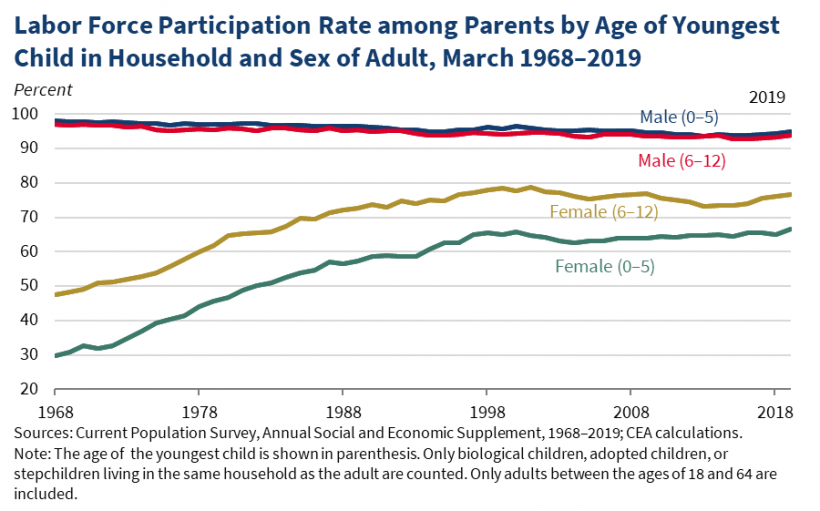 High prices for child care raise costs for working parents and contribute to lower labor force participation rates, especially for women. For the average State, the average hourly price of center-based child care for a child age 4 represents 26 percent of the hourly median wage. For infants, this average price is 32 percent. One way to reduce the cost of formal child care and increase parents' work options is by loosening regulations that raise prices but do not substantially improve the safety or quality of child care.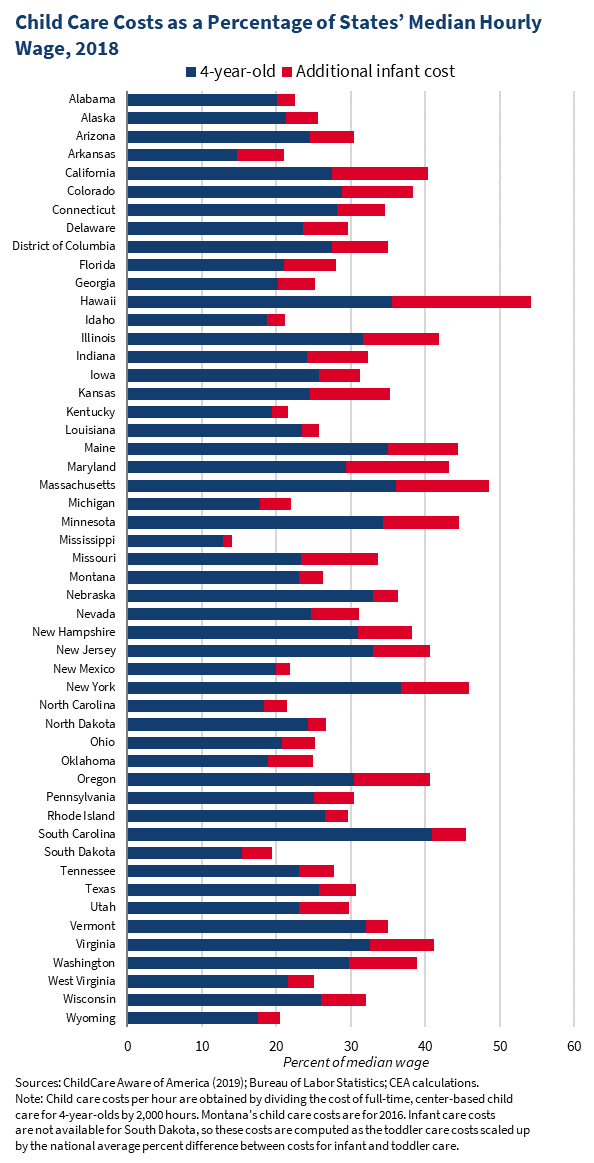 All States set minimum age and mandatory qualifications for child care staff, including some States that require a bachelor's degree for lead child care teachers. Other staff-related regulations that can increase costs include required background checks, minimum staff-to-child ratios, and training requirements. Many States also set minimum requirements for buildings and facilities, regulating the type and frequency of environmental inspections, fire safety provisions, and the availability of indoor and outdoor space. And most States set a maximum number of children in a given child care group, which can lead to higher costs for additional building space. Furthermore, one-size-fits-all regulations can push licensed family child care providers out of the market, limiting parents' child care options. For example, from 2005 to 2017, the number of small, home-based family child care providers dropped by one half (from about 200,000 to under 100,000).
To the extent that these regulations increase safety and reduce injuries in child care settings beyond what private markets would provide, they could have measurable societal benefits. However, evidence suggests that regulations play a major role in raising child care prices without necessarily improving overall quality. Reevaluating the effectiveness of regulations, and relaxing those State and local regulations that unproductively and unnecessarily increase the market price of child care, can provide parents with additional safe child care options and greater opportunities to work outside of the home.
Lower child care prices would provide parents greater ability to choose a balance between working outside the home and caring for their children. This could ultimately bring more Americans into the labor market, increasing economic growth. Creating a system that maximizes parents' opportunities without interfering with personal family decisions is a vitally important goal for the Trump Administration that will benefit American society as a whole.