The Bureau of Labor Statistics (BLS) released its monthly Employment Situation Report for December 2020 last week. Employment fell by 140,000 from November to December according to the establishment survey, ending 7 consecutive months of job gains as States once again engaged in partial economic lockdowns even while COVID-19 cases proliferate amidst these shutdowns. While employment in many industries increased by 358,000, the leisure and hospitality industry—an industry which represents some of the lowest wage earners on average—experienced a loss of 498,000 jobs.
Figure 1 below shows how employment in the leisure and hospitality industry has been generally more susceptible to changes in the prevalence of COVID-19 than other industries, reflecting the regressive nature of government-mandated closures and the reduction in economic activity that occurs when individuals are subject to and make decisions based on these restrictions. As witnessed in the early days of the pandemic, employment in the leisure and hospitality industry fell by almost 50 percent between February and April, while employment in all other industries fell by a much smaller but still substantial 10 percent.
Following the economic detriment and subsequent reopening of the economy by June, employment in the leisure and hospitality industry quickly recouped over two-fifths of its losses—although growth began to grow at a diminished pace thereafter as the United States faced a summertime spike in COVID-19 cases. Despite significant gains in the leisure and hospitality industry for 7 months, it remained one of the most affected industries. In December, employment in the leisure and hospitality industry was still at only 77 percent of its February level, while employment in all other industries reached 96 percent of their February level.
Thanks to the leadership of President Trump, the achievement of a vaccine renews hope to the American people that States under lockdown will soon lift restrictions on economic activity. Employees in the leisure and hospitality industry are those most likely to see employment gains as a result.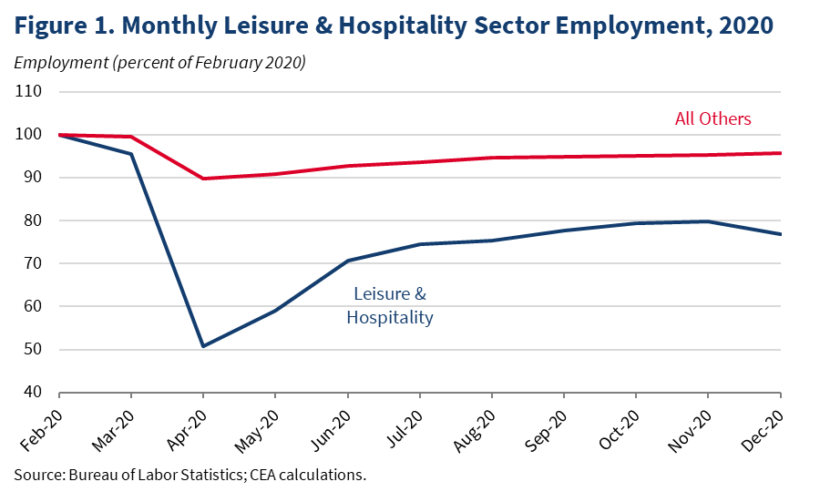 The household survey component of the Employment Situation Report indicates that the unemployment rate remained unchanged in December at 6.7 percent. While this represents millions of Americans who remain out of work through no fault of their own—and is almost double the unemployment rate of 3.5 percent reached in February 2020—it is also less than half the peak 14.8 percent (revised) unemployment rate reached in April, vastly exceeding expectations early in the pandemic. Moreover, the unemployment rate for Black Americans fell to 9.9 percent in December, marking the first month Black unemployment fell below 10 percent since February. The unemployment rate for Hispanic Americans increased by 0.9 percentage point to 9.3 percent, likely reflecting their disproportionate representation in the leisure and hospitality industry.
In the months ahead, it will be vital for policymakers to monitor trends in employment in response to the changing dynamics of the COVID-19 pandemic. At the urging of President Trump, extended pandemic-related relief will reach the Americans in the coming months as part of the Coronavirus Response and Relief Supplemental Appropriations Act of 2021, signed into law on December 27.
In his 2020 State of the Union address, President Trump concluded by saying, "Our spirit is still young, the sun is still rising, God's grace is still shining, and, my fellow Americans, the best is yet to come." As we lament the losses felt by our Nation's workers and families, let us remember these words and continue to work on behalf of the American people.