Women's Global Development and Prosperity Initiative
Introduction
Overview
When women are economically empowered, they re-invest in their families and communities, producing a multiplier effect that spurs economic growth and contributes to global peace and stability. In February 2019, President Trump established the Women's Global Development and Prosperity (W-GDP) Initiative, also led and created by Advisor to the President, Ivanka Trump. This initiative is the first whole-of-government effort to advance global women's economic empowerment.
W-GDP seeks to reach 50 million women in the developing world by 2025 through U.S. government activities, private-public partnerships, and a new, innovative W-GDP Fund. In its first year, W-GDP reached 12 million women worldwide.
The W-GDP Initiative aims to enhance opportunities for women to participate meaningfully in the economy and advance both prosperity and national security. W-GDP focuses on three pillars: Women Prospering in the Workforce, Women Succeeding as Entrepreneurs, and Women Enabled in the Economy.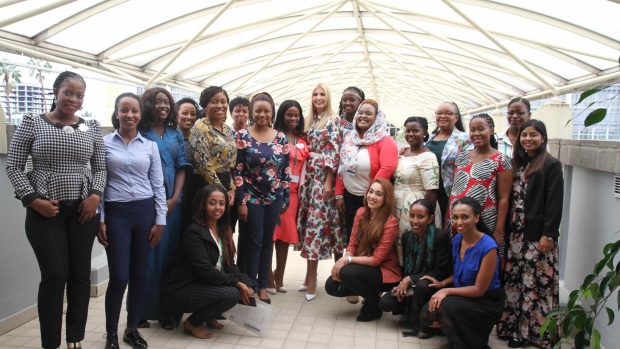 2
Women Succeeding as Entrepreneurs
---
Access to Capital, Markets, Networks, and Mentorship
Women entrepreneurs are a growing market force, serving as a critical source of innovation and job creation and fueling economic growth. However, women-owned businesses do not have equal access to the capital needed to stabilize or expand. There is a roughly $300 billion credit gap for women-owned small and medium-sized enterprises ("SMEs") globally. In many countries, immature or underdeveloped financial systems do not adequately serve the "missing middle," such as women-owned SMEs that have financial needs beyond micro-finance and whose assets do not qualify them for larger commercial loans. Solving this problem requires not only long-term, systemic reforms, but also short-term financial mechanisms that can address immediate needs. Few financial intermediaries are able to address these short-term needs without some form of external assistance.
Women entrepreneurs in the developing world also lack access to markets, market information, digital and personal services, networks, mentorship, and other resources that enable them to overcome the obstacles of starting and growing firms as well as connecting with buyers. As with finance, some of these barriers are systemic, and others are more individualized. Systemic barriers require institutional reforms.
Individualized solutions require development of public and private sector partnerships that can provide the training or assistance needed, including, in some cases, to help organize and formalize individual women entrepreneurs into cooperatives to achieve economies of scale.
Women's economic empowerment and equality exist when women entrepreneurs enjoy equal access to the same affordable financing mechanisms that men do, including both credit and equity, as well as equal access to markets, market information, digital technology, and services.
Investing in women is vital for our collective economic prosperity and global stability. When we empower women, communities prosper and countries thrive.

---

Ivanka Trump