President Donald J. Trump nominated Judge Amy Coney Barrett to fill the seat of the late Justice Ruth Bader Ginsburg on the United States Supreme Court. After a unanimous vote by the Judiciary Committee on October 22, 2020, the Senate confirmed Barrett on October 26.
"Justice Barrett, as you take your oath tonight, the legacy of our ancestors falls to you," President Trump said. "The American people put their trust in you and their faith in you as you take up the task of defending our laws, our Constitution, and this country that we all love. We ask God to give you wisdom and courage."
A graduate of Rhodes College and Notre Dame Law School, Justice Barrett clerked for the late Justice Antonin Scalia before pursuing a career as a litigator and a professor. She was confirmed as a Federal judge for the Seventh Circuit Court of Appeals after a bipartisan vote of the Senate.
In that capacity, Justice Barrett worked faithfully to uphold our nation's Constitution as written. She is also a dedicated mother of seven who brings a new and important perspective to the Supreme Court, such as:
Justice Barrett is first mother of school-aged children to become a Supreme Court justice. She is also only the fifth woman ever to serve on the High Court.
As the mother of a child with special needs, she understands the issues and concerns that confront our nation's most vulnerable.
Justice Barrett is the only current justice to have earned a law degree from a school other than Harvard or Yale—having graduated at the top of her class from Notre Dame Law School.
She becomes one of only two sitting justices to have been born and raised in the South, having grown up in Louisiana before attending college in Tennessee.
Chief Justice John Roberts recognized Justice Barrett's exceptional qualifications in 2010 when he appointed her to the Advisory Committee on Federal Rules of Appellate Procedure, a position she held for six years.
Justice Barrett has made her judicial philosophy clear: She will not legislate from the bench.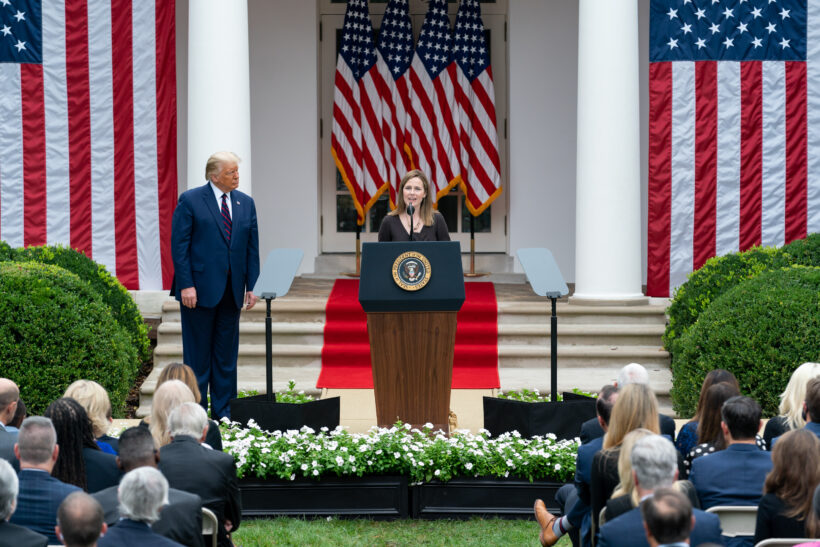 ---
---
Support for Judge Barrett
---
---
Judge Barrett's numerous honors and awards throughout her legal career
Judge Barrett graduated summa cum laude from Notre Dame Law School, receiving the Hoynes Prize, the law school's highest honor.
Judge Barrett was awarded the John M. Olin Fellowship for aspiring academics and earned a tenure-track faculty position at Notre Dame Law School and later honored with the Diane & M.O. Miller, II Research Chair in Law.
At Notre Dame Law School, Judge Barrett was recognized as the "Distinguished Professor of the Year" by three different graduating classes.
Judge Barrett's academic work has been published in various elite law journals, including the Columbia Law Review, Virginia Law Review, and Texas Law Review.
---
---
More Support for Judge Barrett's Nomination
Support for President Trump's Nomination of Judge Amy Coney Barrett
Letter of support from State Legislative Leaders in all 50 states